Wednesday, March 08, 2017
Books, songs, puppets and more: Just what a child's mind needs!
Stop by the Liberty Center near Cincinnati Children's Liberty Campus and you might discover tips on parenting, or hear a book come alive with songs and puppets.
It's all part of Cincinnati Children's exciting partnership with the mixed-use development to bring child health programming to the Liberty Township region.   
Nearly a year ago, our experts and teams of volunteers began facilitating free child health workshops and participating in community events with health activities. 
To date, about 900 children and families have taken part in our child health programs. 
Here's three great examples:
Children's StoryTime at the Discovery Center: Every fourth Friday of the month, Cincinnati Children's is the presenting sponsor of child health activities focused on literacy development, obesity and injury prevention. Midpointe Library is our story time partner. 
Ages & Stages Speaker Series: Monthly our experts engage with parents, caregivers and community professionals on topics such as mental health, early childhood development, nutrition and more.
Liberty Center Community Events: Staff engage children and families in fun, interactive education around choosing the right care, nutrition and safe sleep practices. 
"We feel this collaboration is a unique way to support our strategic plan and meet children and families where they are located as they engage in recreational, social and civic activities," says Char Mason, vice president for Patient Services and Operations at Cincinnati Children's.
"Together with the Liberty Center," she says, "we are changing the outcomes for children."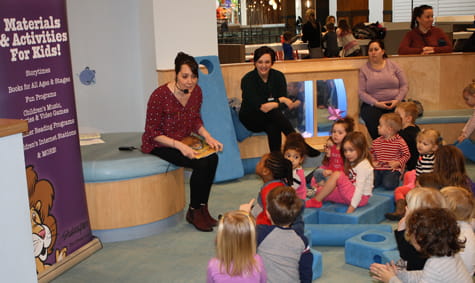 Patricia L. Chambers, MD, volunteers to read to kids as part of our Liberty reading program. 
Reading is Fun and Fundamental  
New research shows that reading development starts earlier in a child's life than most parents know. With Scott Holland, PhD, director of our Reading and Literacy Discovery Center and a neuroradiologist, we look at the science driving his new pursuit. One study, "Home Reading Environment and Brain Activation in Preschool Children Listening to Stories" was published in the journal Pediatrics.